Apple Watch Series 1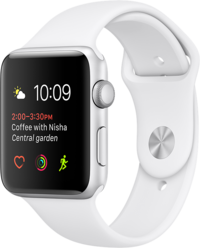 The Apple Watch Series 1 was first introduced at Apple's "See you on the 7th" keynote on 7 September 2016. Unlike its predecessor or Apple Watch Series 2, the Series 1 only comes in an aluminum casing. Internally, the Apple Watch Series 1 is referred to as N27dAP (Watch2,6 - 38mm) or N28dAP (Watch2,7 - 42mm).
Aside from the inclusion of the dual-core S1P, it retains the same feature set as the Apple Watch (1st generation) Sport.
Application Processor
This device uses the new Apple S1P processor. Like the S2, it is dual-core. However, it does not contain a GPS module.
Specifications
Display: Retina
Screen: Strengthened Ion-X glass
Links