List of Apple TV accessories
This is a list of accessories made available for the Apple TV.
The Siri Remote is also known as the "Apple TV Remote" in regions where Siri is unavailable.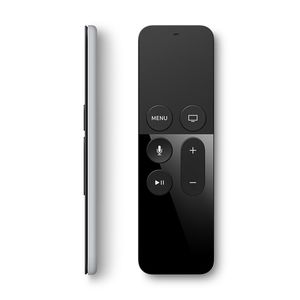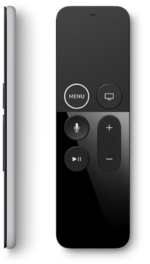 Perhaps due to complaints about grabbing the remote the wrong way, Apple added a slightly elevated white ring around the Menu button to help users distinguish the remote's orientation.
Siri Remote (2nd generation)

Apple redesigned the Siri Remote with the introduction of the Apple TV 4K (2nd generation). It features an all-aluminum enclosure reminiscent of the Siri Remote's predecessor, the Apple Remote (2nd generation). Apple combined the touch-based gestures into a clickpad with directional buttons, including a new circular gesture to scrub through scenes in a video. The Siri button was also moved to the right side of the remote, and a mute button was added to the front.
Features removed from this include the accelerometer, as well as compatibility with the Remote Loop.