SundanceTaosTianshan 10A63971b
This article discusses software internally used by Apple.
Acquiring a copy without Apple's consent is illegal and may result in being scammed.
Engaging in illegal activity is not condoned. This information is provided for educational purposes only.
Background
This is a 6.0-based factory firmware, discovered on an iPad mini prototype unit. It is very similar to other factory versions of 6.0 (such as SundanceTaosTianshan 10A63970v). An incomplete root filesystem dump exists and is around 2.3 GB.
It contains kernels for Apple A6X, A6, A5X, A5, A4 processors as well as the iPod touch (3rd generation), iPhone 3GS. Interestingly, there is also a kernel file relating to an unused processor type - s5l8740x.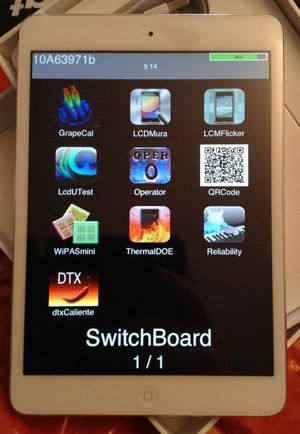 This build is also able to run on the iPhone 4S and iPad 4.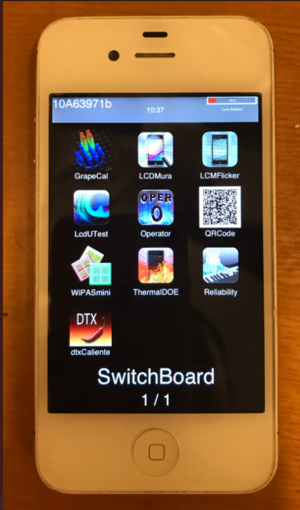 Applications
After booting up, SwitchBoard.app lets you choose from a slew of apps. It's worth mentioning that this SwitchBoard build does not feature the BurnIn app. The applications available are: