J305AP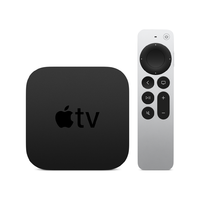 The Apple TV 4K (2nd generation) is a digital media player and microconsole developed and sold by Apple Inc. It was announced during the 'Spring Loaded' event on 20 April 2021, and is scheduled for release in the second half of May, 2021.
The internal identifier is: AppleTV11,1.
Application processor
The Apple TV 4K uses the Apple A12 System on a Chip (SoC).
Specifications
Size:

Device: 1.4 inches (35 mm) (height) x 3.9 inches (98 mm) (width) x 3.9 inches (98 mm) (depth)
Remote: 5.4 inches (136 mm) (height) x 1.4 inches (35 mm) (width) x 0.36 inch (9.25 mm) (depth)

Weight:

Device: 15 ounces (425 grams)
Remote: 2.2 ounces (63 grams)

Storage: 32 or 64 GB.
Wireless:
Voice Assistant: Siri
Connectors: