J274AP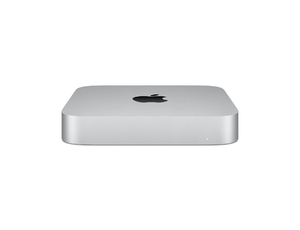 The Mac mini (M1, 2020) was introduced at Apple's 'One More Thing' event on 10 November 2020.
It is one of the first Macs to feature Apple Silicon as part of the transition from x86_64-based Intel processors.
It was made available for preorder on the 10th of November 2020, and for purchase on the 17th of November 2020.
The firmware identifier is Macmini9,1.
Application Processor
This model of the Mac mini uses the T8103 SoC.
Specifications
Size and Weight
Size: 1.4 inches (3.6 cm) (height) x 7.7 inches (19.7 cm) (width) x 7.7 inches (19.7 cm) (depth)
Weight: 2.6 pounds (1.2 kg)
Audio
Video
Supports up to two displays simultaneously

one display with up to 6K resolution at 60Hz via Thunderbolt
and one display with up to 4K resolution at 60Hz connected via HDMI 2.0
Memory and Storage options
Memory: 8GB or 16GB
Storage: 256GB, 512GB, 1TB or 2TB.
Connectivity and Expansion
Connectors
Wireless

802.11ax Wi-Fi 6 wireless networking
IEEE 802.11a/b/g/n/ac compatible.
Note: Some older standards are supported using adapters.
External links
Mac mini on Apple's website
Mac mini (M1, 2020) on Wikipedia