Apple Watch SE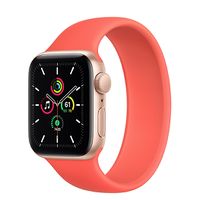 The Apple Watch Series 5 was first introduced at Apple's "Time Flies" keynote on 15 September 2020. Internally, the Apple Watch SE is referred to as N140sAP (Watch5,9 - 40mm), N140bAP (Watch5,10 - 44mm), N142sAP (Watch5,11 - 40mm Cellular) or N142bAP (Watch5,12 - 44mm Cellular).
Application Processor
The Apple Watch SE uses the same T8006 CPU as the Apple Watch Series 4 (except it adds a built-in magnetometer) and Apple Watch Series 5.
It also contains a GPS module, and on cellular models an LTE chip.
Specifications
Display: LTPO OLED Retina display with Force Touch
Links