Restore Mode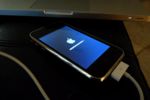 This is the mode the Apple ramdisk enters to restore the iPhone.
There are 7 steps:
1.) Preparing the iDevice for the restore.
2.) Check the restore with Apple.
3.) Preparing the firmware for the restore.
4.) Preparing the iDevice for the restore.
5.) Resotring the software.
6.) Checking the software.
7.) Restoring the firmware.
The software is the biggest DMG file in the IPSW and contains all files for the root parition. The firmware is the smaller DMG (update or restore) and contains the files for the iBoot, iBSS, iBEC etc. and on an iPhone or iPad WiFi + 3G it's also the baseband.
Exploits
The original jailbreaks were done by booting the phone into restore mode and copying an /etc/fstab and afcd plist from the user partition. This was done by using the cp iBoot command, a command which had access to the whole filesystem.
Implementations