J33AP
From The iPhone Wiki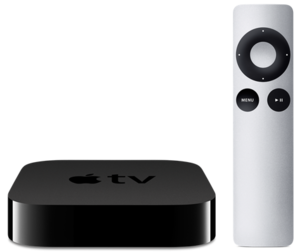 This is the Apple TV (3rd generation). It was announced on March 7, 2012 and sports 1080p playback. The name used in firmware is AppleTV3,1.
Application Processor
The Apple TV (3rd generation) uses the S5L8942 (revised A5 chip). Despite Apple's claim that it has one core, the A5 chip in the Apple TV (3rd generation) physically has two cores (though one of the cores is disabled; whether this is a software limit or if Apple is binning chips is currently unknown).
Wireless
The Apple TV 3G uses the dual-band BCM4330 for wireless communications. It supports 802.11a/b/g/n on both 2.4 and 5 GHz frequencies.
Specifications
Size: 0.9 inches (23 mm) (height) x 3.9 inches (98 mm) (width) x 3.9 inches (98 mm) (depth)
Weight: 0.6 pounds
I/O: HDMI, Optical audio, 10/100 Mbps Ethernet, IR receiver, Micro-USB port
Storage capacity: 8 GB (not user-manageable)
RAM: 512 MB
| | |
| --- | --- |
| | This hardware article is a "stub", an incomplete page. Please add more content to this article and remove this tag. |