The iPhone Wiki is no longer updated. Visit this article on The Apple Wiki for current information.
List of iPod touches
There are seven iterations of the iPod touch. Apple refers to these devices as "iPod touch (x generation)" (e.g. "iPod touch (7th generation)").
This is the very first iPod touch.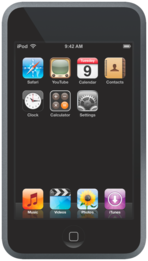 Color: Black
Battery Specs:

Current: 580 mA
Power: 2.15 Wh
Voltage: 3.7 V

CPU Specs:

Processor: S5L8900
Processor Cores: 1
CPU Speed: 400 MHz (412 MHz as of iPhone OS 1.1.2+)

RAM: 128 MB DRAM
Storage: 8/16/32 GB
Wi-Fi: 802.11 b/g
Firmware:
Internal Name: iPod1,1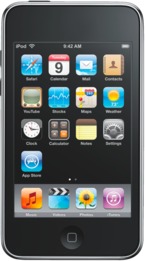 Color: Black
Battery Specs:

Current: 730 mA
Power: 2.7 Wh
Voltage: 3.7 V

CPU Specs:

Processor: S5L8720
Processor Cores: 1
CPU Speed: 533 MHz

RAM: 128 MB DRAM
Storage: 8/16/32 GB
Bluetooth 2.1 (iPhone OS 3.0 and later)
Firmware:
Internal Name: iPod2,1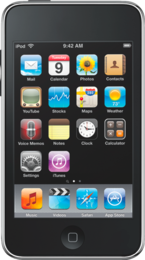 Battery Specs:

Current: 789 mA
Power: 2.92 Wh
Voltage: 3.7 V

CPU Specs:

Processor: S5L8922
Processor Cores: 1
CPU Speed: 620 MHz

RAM: 256 MB DRAM
Storage: 32/64 GB
Bluetooth 2.1 EDR
Firmware:
Internal Name: iPod3,1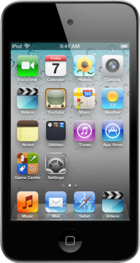 Color: Black/White
Battery Specs:

Current: 930 mA
Power: 3.44 Wh
Voltage: 3.7 V

CPU Specs:

Processor: S5L8930 "A4"
Processor Cores: 1
CPU Speed: 1024 MHz

RAM: 256 MB DRAM
Storage: 8/16/32/64 GB
Bluetooth 2.1 EDR (2.4 GHz only)
Firmware:
Internal Name: iPod4,1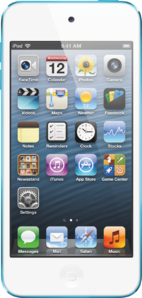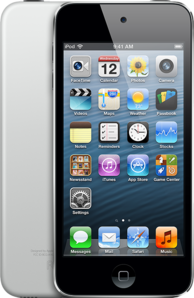 Color: Black/Blue/Yellow/Pink/Red/White (Black and Silver for A1509)
Battery Specs:

Current: 1030 mA
Power: 3.8 Wh
Voltage: 3.7 V

CPU Specs:

Processor: S5L8942 "A5 Rev A"
Processor Cores: 2
CPU Speed: 1024 MHz

RAM: 512 MB
Storage: 16/32/64 GB (Only 16GB for A1509)
Bluetooth 4.0
Firmware:
Internal Name: iPod5,1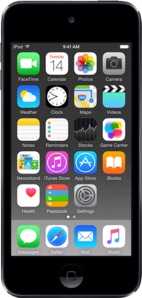 Color: Space Gray, Gold, Silver, Pink, Blue, PRODUCT(RED)
Battery Specs:

Current: 1043 mA
Power: 3.99 Wh
Voltage: 3.83 V

CPU Specs:

Processor: T7000 "A8"
Processor Cores: 2
CPU Speed: 1.1 GHz

Motion coprocessor: LPC18B1 "M8"
RAM: 1 GB
Storage: 16/32/64/128
Bluetooth 4.1
Firmware:
Internal Name: iPod7,1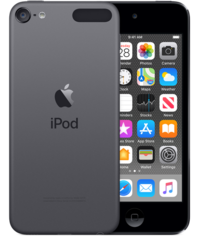 Color: Space Gray, Gold, Silver, Pink, Blue, PRODUCT(RED)
Battery Specs:

Current: 1043 mAh
Power: 3.99 Wh
Voltage: 3.83 V

CPU Specs:

Processor: T8010 "A10 Fusion"
Processor Cores: 4 (2 used)
CPU Speed: 2.34 GHz (underclocked to 1.63 GHz)

Motion coprocessor: "M10"
RAM: 2 GB
Storage: 32, 128, or 256 GB Flash memory
Bluetooth 4.1
Firmware:
Internal Name: iPod9,1
References