Difference between revisions of "TinyUmbrella"
m

Line 23:
Line 23:
 
 
 

[http://twitter.com/notcom semaphore's twitter]

 

[http://twitter.com/notcom semaphore's twitter]

 
+
 
+

[[Category:Software]]
---
Revision as of 21:36, 28 January 2011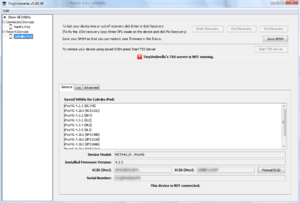 TinyUmbrella is a combination of two earlier tools, all of which were written by semaphore. It requires Java to be installed (Windows users need the 32-bit version, regardless of OS architecture).
Umbrella -- used to save the SHSH file of your iDevice to make it possible to later downgrade or restore the firmware. It even works with non-jailbroken devices.
TinyTSS -- local server used to playback saved SHSH files during an iTunes restore.
Quick Notes:
Save SHSH -- If done with Request SHSH From Cydia ENABLED will result in Cydia storing your SHSHs for the current version Apple is signing.
If Cydia returns only some of the SHSHs you desired, it is because Cydia does not have the others. Sorry. Nothing you can do to get them.
TinyUmbrella needs admin privileges to listen on port 80 and to change your hosts file.
Mac Users -- Disable Web Sharing (System Prefs -> Sharing -> Uncheck Web Sharing)
Windows Users -- Disable IIS this may help Also make sure Apache is not running.
Make sure you have the latest java runtime installed Get Java (Click Download JRE)
Make sure you have iTunes installed. Rule of thumb: if your device is not detected in iTunes, it won't be detected in TinyUmbrella either.
TinyUmbrella works best when your device is in normal mode. (Recovery and DFU have very limited functionality)
AppleTV requires external power above and beyond what the USB provides. Please make sure your AppleTV is plugged into the wall. Then plug in the USB. Then reboot/reset your AppleTV. Then start TinyUmbrella.
Mac 10.5.8 users -- Fixing your permissions has helped more than a few folks with the 255 error on startup.
Mac users that just cannot get TinyUmbrella to work properly -- Install TinyUmbrella to your /Applications directory then do this: (Note you will need your administrator password)

Open Terminal and type "/Applications/TinyUmbrella.app/Contents/MacOS/umbrella-tool" without the quotes and then press return.