Snowwhite
This article discusses software internally used by Apple.
Acquiring a copy without Apple's consent is illegal and may result in being scammed.
Engaging in illegal activity is not condoned. This information is provided for educational purposes only.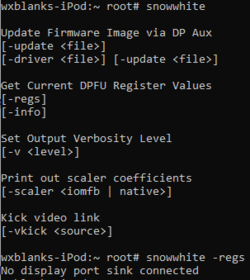 snowwhite is an internal CLI tool (see SwitchBoard:_/usr/local/bin) that appears to display information (and update firmware?) across DisplayPort adapters.
Functionality has been largely untested, and is useless without a connected DisplayPort "sink".
| | |
| --- | --- |
| | This software article is a "stub", an incomplete page. Please add more content to this article and remove this tag. |