Redsn0w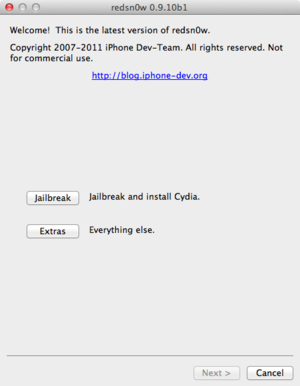 redsn0w (at version 0.1) was originally a QuickPwn-like implementation of the 0x24000 Segment Overflow for the iPod Touch 2G. However, due to the theft and exploitation of the name (as QuickPWN) by quickpwn.com, as of firmware 3.0, QuickPwn was discontinued and redsn0w (at the time, version 0.7) was converted into a jailbreaking tool for all current devices as well as providing unlock support the iPhone 2G.
As of version 0.8, the iPhone 3GS can also be jailbroken through redsn0w. It is currently closed-sourced but the executable is being worked into several third-party GUIs as the underlying engine can also be used as a commandline tool.
Version 0.9 beta 3 was released for Windows and OS X, and it allows firmware 3.0 to 3.1.2 to be jailbroken. It includes support for all devices except the iPod touch 3G and supports a tethered jailbreak on late-model iPhone 3GS's and iPod touch 2G's. This latest version supports custom boot and recovery mode logos, as well as verbose-bootup. Final release, version 0.9.2 supports jailbreaking of all iDevices with firmware 3.0 or 3.1.2 on Windows and Mac OSX and iPhone 2G/3G, iPT 1G on firmware 3.1.3. Version 0.9.3 adds support of internet tethering IPCC hack on those devices and 0.9.4 allows jailbreaking of early iPod Touch 2G with 3.1.3 firmware.
Version 0.9.5b5-5 supports jailbreaking the iPhone 3G and iPod touch 2G (non-MC) with iOS 4.0 on Windows and Mac OS X.
Credit
Exploit
For iPod touch, iPhone and iPhone 3G, see:
For iPod touch 2G, see:
For iPhone 3GS, see:
For iPod touch 3G