Redsn0w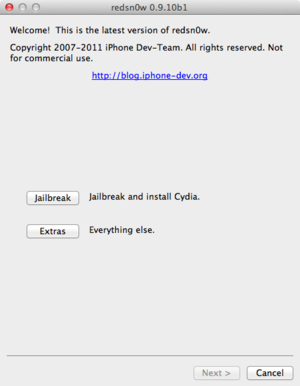 redsn0w was originally called QuickPwn but due to the theft and exploitation of the name, QuickPWN by quickpwn.com, as of iOS 3.0, QuickPwn was discontinued and redsn0w (at the time, version 0.7) was converted into a jailbreaking tool for all current devices as well as providing unlock support the iPhone 2G. As of version 0.8, the iPhone 3GS can also be jailbroken through redsn0w.
Version 0.9 beta 3 was released for Windows and Mac OS X, and it allows iOS 3.0 through 3.1.2 to be jailbroken. It includes support for all devices except the iPod touch 3G, and supports a tethered jailbreak on iPhone 3GS units and iPod touch 2G units with new bootroms. In addition, this version supports custom boot and recovery mode logos, as well as verbose mode on bootup.
Version 0.9.2 supports jailbreaking of all iDevices (at the time) with iOS 3.0 through 3.1.2 on Windows and Mac OS X, as well as 3.1.3 on S5L8900 devices. Version 0.9.3 adds support of internet tethering IPCC hack on those devices and 0.9.4 allows jailbreaking of early iPod touch 2G with iOS 3.1.3.
Version 0.9.5b5-5 supports jailbreaking the iPhone 3G and iPod touch 2G (old bootrom) with iOS 4.0 on Windows and Mac OS X.
redsn0w 0.9.6b2 can jailbreak iOS 3.2.2, and 4.0 through 4.1 on every device that supports those versions, on Windows and Mac OS X.
Credit
Versions
Version
Release date
Changes

0.7

Unknown

0.8

July 2009

0.9.2

Unknown

Supports 3.0-3.1.2 on all iPhones and iPod touches (still a tethered-only JB for late-model devices though)

0.9.3 beta

Unknown

Contains the IPCC hack to enable tethering on the iPhone 3G and 3GS.

0.9.4

Unknown

0.9.5 beta 5-3

June 21, 2010

0.9.5 beta 5-4

Unknown

Resolved a problem with iBooks.

0.9.5 beta 5-5

Unknown

Supposed to fix any APN or MMS issues that users were seeing.

0.9.6 beta 1

September 21, 2010

0.9.6 beta 2

October 31, 2010

Supports jailbreaking iOS 3.2.2 and 4.0-4.1 on every device that supports those firmwares (except iPod touch 2G MC) .
The Windows version also includes a function that permits users to restore to a custom IPSW, akin to PwnageTool's DFU button.

0.9.6 beta 3

November 2010

Supports the installation of custom bundles

0.9.6 beta 4

November 23, 2010

Jailbreaks iOS 4.2.1 on all supported devices.

0.9.6 beta 5

November 28, 2010

0.9.6 beta 6

December 1, 2010
0.9.7 beta 1
| style="white-space: nowrap;" | December 26, 2010 |
Jailbreaks iOS 4.2.1 on all supported devices.

unTethered jailbreak on devices that have 4.2 b3 SHSH and have access to The beta ipsw mac only edition

the untetherd jailbreak does not work with the instal cydia option and after installing the jailbreak Bluetooth will be disabled and multitasking will not work
|}
Exploits used
For iPod touch, iPhone and iPhone 3G, see:
For iPod touch 2G, see:
For iPhone 3GS, see:
For iPod touch 3G
for iPhone 4, iPod touch 4G, iPad and Apple TV 2G