Difference between revisions of "N90AP"
(Undo revision 21943 by Ferrarix5a (talk) if you think having another place we have to maintain for various baseband versions is a good idea, please argue your case on the Talk page)

Line 6:
Line 6:
 
 
 

== [[Baseband Device]] ==

 

== [[Baseband Device]] ==

−

It uses the [[X-Gold 618]]. Has 4.x basebands of 1.59.00, 02.10.04, 03.10.01, 04.10.01; and 5.x basebands of 04.11.08.

+

It uses the [[X-Gold 618]].

 
 
 

== GPS ==

 

== GPS ==
---
Revision as of 14:38, 22 October 2011
This is the iPhone 4 (GSM model). Announced on WWDC keynote in June 2010. It features a new exterior design, 5-megapixel camera with LED flash, the 960x640 Retina display screen and FaceTime Video Calls. It runs iOS 4.0 and later.
It uses the Apple A4 CPU, same as the iPad, iPod touch 4G, and Apple TV 2G. However, it ships with 512 MB of RAM, double that of the other A4-based devices. [1]
It uses the X-Gold 618.
GPS
The iPhone 4 uses the Broadcom BCM4750 single-chip GPS receiver, like the iPad. [2]
Specifications
Color: Black and White
Size: 115.2 mm (4.5 inches) (h), 58.6 mm (2.31 inches) (w), 9.3 mm (0.37 inches) (d)
Weight: 135 g (4.8 oz)
Battery: Standby up to 300 hours, talk time up to 7 hours on 3G and up to 14 hours on 2G
Rear camera: 5MP with Autofocus and manual focus (Tap to focus), supporting HD video recording @ 30FPS
Front camera: VGA photos and video @ 30 FPS, supporting FaceTime Video Calls
Major Upgrades/Difference from iPhone 3GS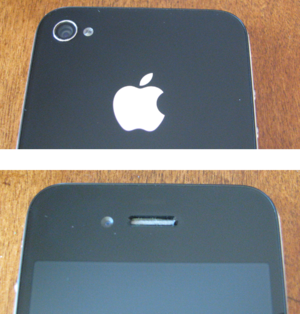 Retina display with 960x640 pixel at 326ppi
New design
RAM upgrade to 512 MB
Totally new baseband device, firmware, and bootloader
Two cameras: front (640×480 VGA) and back (5 megapixel)
Back camera also has a LED Flash. [3]
WiFi support for 802.11n, but 2.4 GHz only