N102AP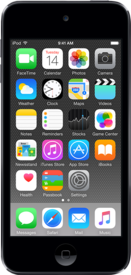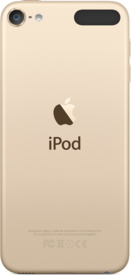 This is the iPod touch (6th generation) that was released on 15 July 2015. The model number on the back casing is A1574. The firmware identifier is iPod7,1.
Application Processor
The iPod touch (6th generation) makes use of the Apple A8 SoC, the same SoC as the Apple TV HD, HomePod, iPad mini 4, iPhone 6 and iPhone 6 Plus.
Common Specifications
Display: 4.0" 1136x640 LED-backlit IPS display at 326 ppi (Retina Display)
Size: 4.86 inches (123.4 mm) (height) x 2.31 inches (58.6 mm) (width) x 0.24 inches (6.1 mm) (depth)
Color: Space Gray, Gold, Silver, Pink, Blue or Red
Weight: 3.10 ounces (88 grams)
Battery: 40 hours of audio, 8 hours of video
Voice Assistant: Siri
Front camera: 1.2 MP photos and 720p videos
Connector: Lightning Connector
Similarities
The 6th generation looks exactly the same as the previous generation except the iPod Loop which has been removed. The colors have been replaced Slate becoming Space Gray, Lime becoming Gold, Salmon becoming Hot Pink and Turquoise becoming Blue. Silver and Product(RED) stayed the same.