JailbreakCon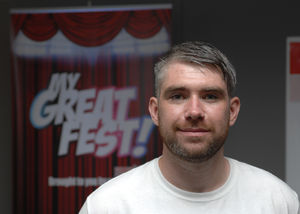 JailbreakCon or WWJC (Worldwide Jailbreak Convention; formerly MyGreatFest) is a convention centered around the iOS jailbreak community. The day after the first one was held, the name was changed from MyGreatFest to JailbreakCon (WWJC).
JailbreakCon New York, August 2013
This event was held at Radisson Hotel New Rochelle (New York) on 23/24 August. The first day was a developer workshop, and the second day was the main event.
Workshops (first day)
Jay Freeman (saurik), Britta Gustafson, and Ryan Petrich answered questions and taught aspects of developing and contributing. Most of this was not recorded, but there's some video of Ryan Petrich answering development questions.
Speakers (second day)
Joshua Hill (p0sixninja) spoke about OpenJailbreak, explaining the project's goals. He published his slides (PPT). Several blogs wrote articles summarizing the talk: iFans, iJailbreak, AppAdvice, and ModMyi. p0sixninja also discussed the status of the iOS 7 jailbreak, summarized by ModMyi.
Nikias Bassen (pimskeks) gave an explanation of how evasi0n works. Here are his slides (PDF) and an article from iFans that summarizes the talk.
Carsten Heinelt, developer of iFile, discussed some iFile features, explained why iFile can't be published as-is in the App Store, and talked about the future of iFile. This ModMyi article summarizes the talk.
Ryan Petrich, developer of many tweaks, explained some of the developer libraries he maintains and announced his upcoming revival of TweakWeek. Here is his example code, an iDownloadBlog article about TweakWeek 2, and a ModMyi article about it.
Adam Bell, another tweak developer, discussed developing Message Box and demonstrated how to use Cycript to prototype a tweak. Here's a video of the talk and his slides and example code. iFans wrote an article summarizing the talk.
Jay Freeman (saurik) talked about the complications of determining whether jailbreaking is legal. iFans wrote an article about their impression of the talk.
Filippo Bigarella, another tweak developer, talked about the process of developing tweaks. iFans wrote an article summarizing the talk.
TCcentex, a theme artist, told the story of E is for Ezra, a theme that raises money for the ModMyi founder's charitable organization that supports neuroblastoma research. He released E is for Ezra 2 during his presentation.
Britta Gustafson, SaurikIT community manager, talked about why people jailbreak their devices.

Lightning talks (two minutes each): Bradley Friedman (Sirex), Julian Weiss (insanj), Adam D (kirb), Daniel Ferreira (theiostream), and Conrad Kramer (conradev). These developers talked about their tweaks and shared advice on developing. Video of the lightning talks.
More videos
More articles
JailbreakCon San Francisco, September 2012
This event was held at South San Francisco Conference Center on 29 September.
Speakers 2012
Aaron Ash
Josh M. Tucker
Austin Bradley
Dustin Howett
Carsten Heinelt, developer of iFile
Kevin Bradley (nitoTV)
Ryan Petrich
Videos 2012
Slides 2012
Articles 2012
MyGreatFest London, September 2011
This event was held at The Old Truman Brewery in London on 17 September.
Speakers 2011
Aaron Ash
Carsten Heinelt, developer of iFile
James Whelton
p0sixninja and OPK
Videos 2011
Slides 2011
Articles 2011
External Links