iBridge
iBridge is a family of embedded processing devices for Macs. There are currently four variants.
iBridge devices run a heavily modified version of watchOS, titled bridgeOS, and they drive functionality for a limited range of hardware components. They are currently only known to work with the Touch Bar and the built-in FaceTime HD camera.
Similar to iPhones, iPads, and iPods, iBridge firmware bundles come in IPSW form. Build train codenames are appended with "HWBridge" to distinguish them from normal firmwares, and the disk image files inside have labels that are appended with "UniversalBridgeOS." They can only be restored to if the Mac is in DFU mode. The steps for a MacBook Pro are unknown, but this can be achieved on the iMac Pro by following the steps below:
Completely power off the iMac and disconnect it from external power.
Attach one end of a Thunderbolt cable to the rear end of the iMac in the Thunderbolt port that is located next to the Ethernet port.
Connect the other end to any Thunderbolt or USB port on the host Mac (the device which will be used for restoring).
Hold down the power button on the back of the iMac for 3 to 10 seconds, while connecting the power cord.
The iMac will connect in DFU mode. iTunes may appear, despite not supporting iBridge devices.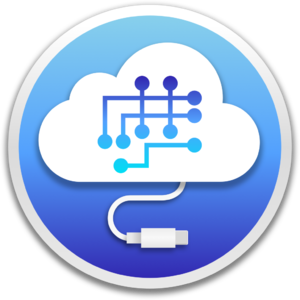 In order to restore a firmware to an iBridge device, technicians must use two Apple Internal tools. The first one, Apple Service Toolkit (AST), is used to initiate a diagnostic session between the host Mac and the Mac in DFU mode. The second tool, which must be installed on the host Mac, is known as the Mac Configuration Utility (MCU). It communicates with AST to provide board information and initiate restores and diagnostics over-the-air. MCU supports macOS 10.13.2 or later.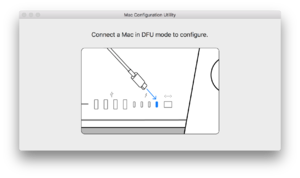 iBridge devices can still be managed if there is no firmware present by booting a diagnostic image, which is pushed to the device by MCU after a Blank Board Serializer test is initiated on AST. This test will also assign a serial number to a new board.
During a restore, an Apple logo and progress bar will show on the screen, similar to that of a normal device restore. It is unknown if iBridge firmwares are signed, or if they are verified by the host or by iBridge devices.