GrapeCal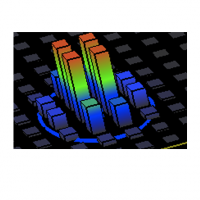 GrapeCal is an application seemingly used to calibrate the touch screen of a device. It requires device specific firmware as well as other requirements in order to be able to run. The GUI itself is quite plain, with a list stating which files are present and which files are not, as well as a settings and quit button.
There are also ways of enabling the calibration UI - which results in the appearance of 3 additional buttons for calibration and log viewing. Notably, the user will only be given the option to attempt calibration if the device is connected to a power source or PC. If not connected to a power source, the text of the green button will change from "Calibrate" to "NO FIXTURE". The yellow "Cal Log" button displays diagnostic logs which are stored locally on the device, whilst "PC Log" is most likely intended to do the same for logs stored on a PC.
Inside settings, you can adjust the "verbose level" from levels 1 to 3, as well as enable or disable serial output and production mode.
The Contents Of The App:
GrapeCal
Info.plist
GrapeCal.tiff
PkgInfo
GrapeCal_GAIA.app
ResourceRules.plist
GrapeCal_iPad.app
_CodeSignature
GrapeCal_iPhone.app
com.apple.GrapeCal.plist
Screenshots