B520AP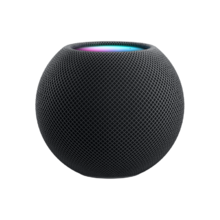 The HomePod mini was announced at Apple's 'Hi, Speed' event on 13 October 2020. It was available for preorder on 6 November 2020 and was released on 16 November 2020. It is a smart speaker that features AirPlay 2 and Siri, as well as arrays of microphones and tweeters for 360° audio. It runs a variant of tvOS, called audioOS.
Application Processor
This device uses the Apple S5 system-on-a-chip, which is also found in other devices such as the Apple Watch Series 5 and Apple Watch SE.
Specifications
Height: 3.3 inches (84.3 mm)
Width: 3.9 inches (97.9 mm)
Color: Space Gray, White
Weight: 345 pounds (0.76 kg)
Wi-Fi: 802.11n