Apple Watch (1st generation)
This page is about the first generation Apple Watch. For a list of all Apple Watches, see List of Apple Watches.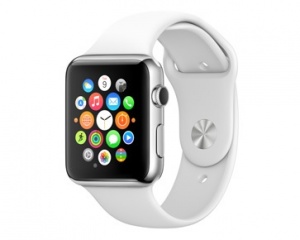 This is the Apple Watch (1st generation), a smartwatch that was first introduced by Tim Cook at Apple's "Wish we could say more" keynote on 9 March 2015. Internally, the watch is referred to as N27aAP (Watch1,1 - 38mm) or N28aAP (Watch1,2 - 42mm).
Application Processor
This device uses the Apple S7002 (S1) processor which is based on the ARMv7k (32-bit) architecture.
Specifications
RAM: 512 MiB
NAND size: 8 GiB; roughly 2 GB are for songs and 75 MB for photos.
Display: Retina.
Screen: Sapphire crystal (Apple Watch and Apple Watch Edition) or Strengthened Ion-X glass (Apple Watch Sport)
Operating System
The Apple Watch originally ran on a stripped-down fork of iOS 8.
The user interface is named "Carousel" (instead of Springboard), and most frameworks are replaced with "Nano" equivalents.
The last firmware supported on the original Apple Watch is watchOS 4.3.2
Variations
Apple Watch
Apple Watch Sport
Apple Watch Edition
Third-party applications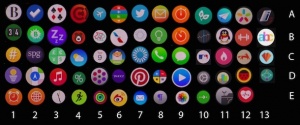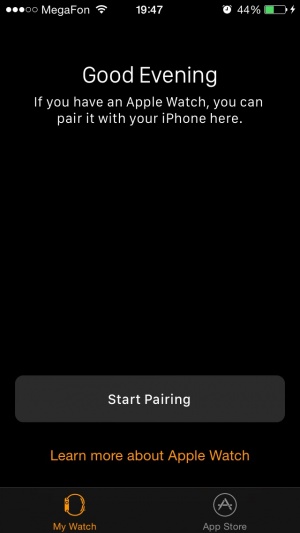 Third-party applications are supported through the WatchKit API. However, in order to save battery and allow a less powerful processor, applications are "run" on the phone and streamed to the Watch over Bluetooth. iOS 8.2 (and up) comes with a dedicated "Watch" app to perform the initial pairing and download third-party "Watch apps".
Announced third-party apps include (but are not limited to):
American Airlines (B06)
BMW
City Mapper (E10)
Comedy Central (A04)
Facebook
HoneyWell (B07)
Lutron (C07)
Major League Baseball (C10)
Nike+
Pinterest (D07)
Starwood Hotels (C02)
Twitter (A07)
Yahoo (D06)
Links