Apple Watch (1st generation)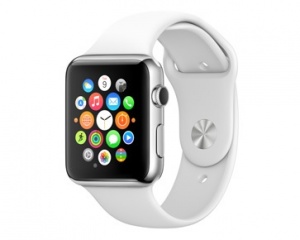 Summary
This is the Apple Watch introduced by Tim Cook at Apple's 'Wish we could say more.' event on the 9th September 2014.
Application Processor
This device uses the new Apple S1 processor, currently nothing is known about it.
Specifications
RAM: 512MB
NAND size: 4GB/8GB. It's also possible, that more will be available.
Display: Retina.
Screen: Sapphire crystal (Apple Watch/Apple Watch Edition)/Strengthened Ion-X glass (Apple Watch Sport)
Compatibility: iOS 8 running on: iPhone 5, iPhone 5C, iPhone 5S, iPhone 6, iPhone 6 Plus
Versions
Apple Watch
Apple Watch Sport
Apple Watch Edition (the body is made from gold)
Third-party applications
Apple confirmed, that Watch will support third-party applications. The device will have an API called WatchKit.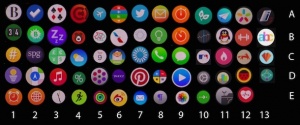 Currently announced third-party apps:
Facebook
Twitter (A07)
City Mapper (E10)
BMW
HoneyWell (B07)
Lutron (C07)
Nike+
American Airlines (B06)
Starwood Hotels (C02)
Major League Baseball (C10)
PInterest (D07)
Yahoo (D06)
Comedy Central (A04)