AirDrop
For common meaning for AirDrop, see AirDrop on Wikipedia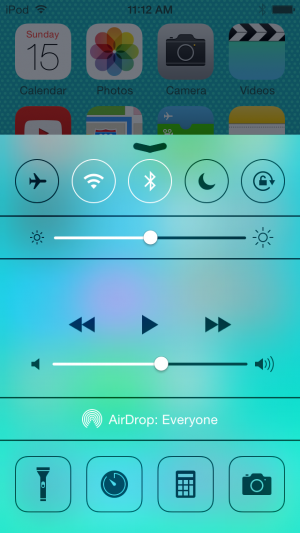 AirDrop is an ad-hoc service, introduced in iOS 7. Users can share photos and videos with other supported iOS devices without the need of mass storage devices with their iCloud accounts (If share with Contacts). You cannot use AirDrop on iOS to share with OS X, and OS X users can't use AirDrop to share with iOS devices. AirDrop in iOS operates over both Wi-Fi and Bluetooth 4.0.
AirDrop feature can be accessed through Control Center (Enable it from Settings>Control Center) introduced in iOS 7. Enabling it causes both Wi-Fi and Bluetooth active (if not active yet).
AirDrop is officially supported on these devices (or newer) only:
AirDrop is unofficially supported on these devices:
Interesting point, AirDrop in iOS makes use of BCM4334 or BCM43342 bluetooth chip (or higher version) for Bluetooth operations. This means devices with this chip (or higher) are able to use AirDrop.
Filesystem
/System/Library/LaunchDaemons/com.apple.sharingd.plist
/System/Library/PrivateFrameworks/Sharing.framework
/System/Library/SpringBoardPlugins/Sharing.servicebundle
/usr/libexec/sharingd
A Port to unsupported devices
Providing the link isn't permitted here, but there is a cydia package that does the job. You can have AirDrop option in Control Center in any devices but only iPad 3 that you can use AirDrop for sending.
References